About Our Services
Jerry and Don's has a Grade T1, T2 & T3 Water Treatment Operator License and a Grade D1 & D2 Water Distribution License, issued by the State of California. We specialize in water treatment solutions for those customers with water quality issues.
Water is a resource we all utilize on a daily basis.Does your water have a foul odor, an iron taste to it, or does it leave a residue or a stain on your household fixtures? We want to make sure your water is of the highest quality for you and your family or business, so let us do a simple test and create a system that works for you.
In addition to the name brand systems we mention, we service and install virtually all brands of water treatment systems.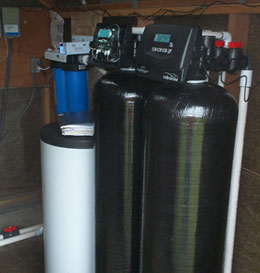 Water Treatment Types
Treatment Systems

Triple O (Ozone)
Clear Water Tech (Ozone)
Reverse Osmosis –for point of use, and entire house

Ultra Violet Light Systems

Hallett UV
Trojan UV
Pura UV
Atlantic UV

Chemicals & Feeders

Chlorine
Poly Phosphate
Soda Ash

Cartridge Filters & Sand Separators
Water Softeners with Salt Recycling
Media Filters
Calcite & Multi Media Filters